Posted by Gun Builders Depot on Jun 18th 2020
If you decided to build an AR-15 or other firearm using an 80% lower or receiver blank, your first question is probably, "Does it need a serial number?" Common sense says this would effectively negate any benefits or conveniences of using an 80 lower to build an AR-15 or other gun, because then you're just throwing in paperwork and government bureacracy. Let's answer the most common questions and we'll cover how you can serialize an 80% lower by choice, or if it's required in your state.
---
Does an 80% Lower Need a Serial Number?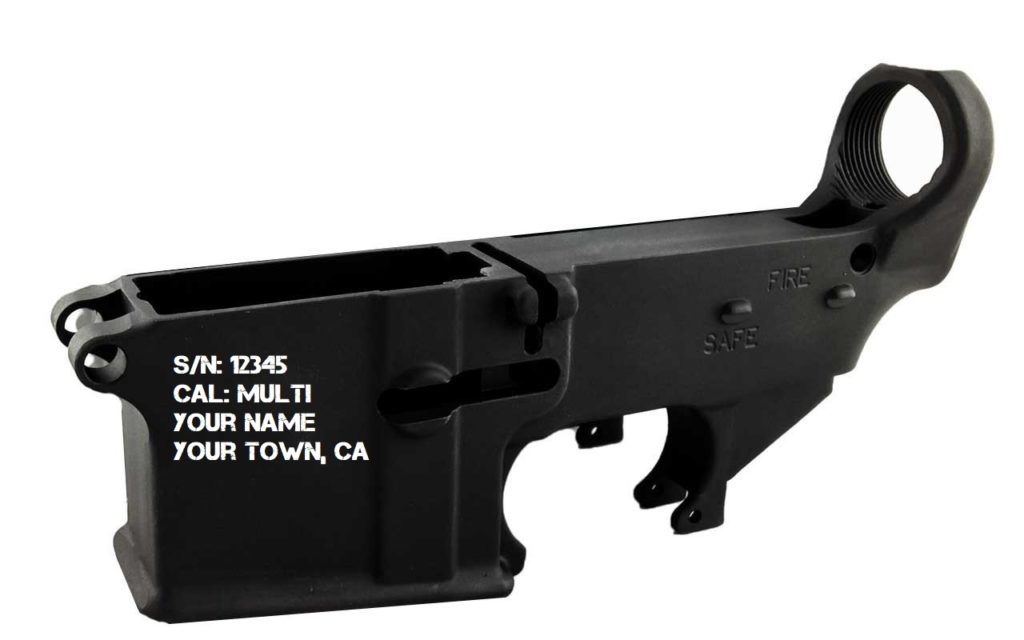 In most cases, you do not need to serialize your 80% lower, even after building your rifle or pistol. Under federal law, any individual building a firearm at home for personal use does not need to mark their firearm with a serial number. The ATF still recommends you engrave a serial number if you ever plan on selling your homemade firearm later.
When does a receiver need to have markings or a serial number?
Federal law requires a firearm to need a serial number only if it has been manufactured or sold by a licensed dealer or Federal Firearms Licensee, per 27 CFR § 478.92, Firearm Manufacturers Marking Requirements. This doesn't apply to individual builders making a firearm for personal use.
Which states require an 80% lower to have a serial number?
California and Connecticut require all firearms to have serial numbers, including 80% lower receivers before they're cut and drilled, making them a firearm under those states' legal definitions. California Bill A.B. 857 requires that all firearms in the state either have a unique serial number engraved, or that they be destroyed. Connecticut's legislation requires all firearms and firearm blanks, including unfinished 80% lowers, to have unique serial numbers engraved before they're made into a firearm. Some other states may require serialization, too, so check your local laws.
If you're in that camp, take note. This guide covers how to serialize an 80% lower, receiver, or frame to help ensure your homemade firearm is legal.
---
80% Lower Serialization Requirements
Federal law provides certain standards for serializing a firearm. States like California, which require serialization, have adopted those same federal standards. To meet the standards, your 80% lower, frame, or receiver's markings must:
Be engraved at least 0.003" into the material.
Have a minimum text size of no less than 1/16" in height.
The engraved markings must include the following information:
Model of the firearm (if chosen or described)
City and state of manufacture (where you live)
Caliber or gauge of the firearm (cannot be "MULTI")
Manufacturer's first and last name (that's you)
---
How to Serialize an 80% Lower in California
A.B. 857 went into effect July 1, 2018. That means any self-made firearm with no serial number that may exist after this date would need to be destroyed. That also means you need to apply for a unique serial number through the state's Department of Defense. You need to submit to a background check (called a PFEC) and receive a serial number and engrave it on your lower or frame before you fabricate it into a firearm. Here's how it's done.
---
Step 1: Download, Fill Out, and Submit PFEC Application
The PFEC, or Personal Firearm Eligibility Check Application, is California's version of a federal background check for a gun purchase (NICS). The PFEC goes off the California criminal database, not the federal one. You need to download the application here, fill out in ink, notarize it, and submit it to the CA DOJ: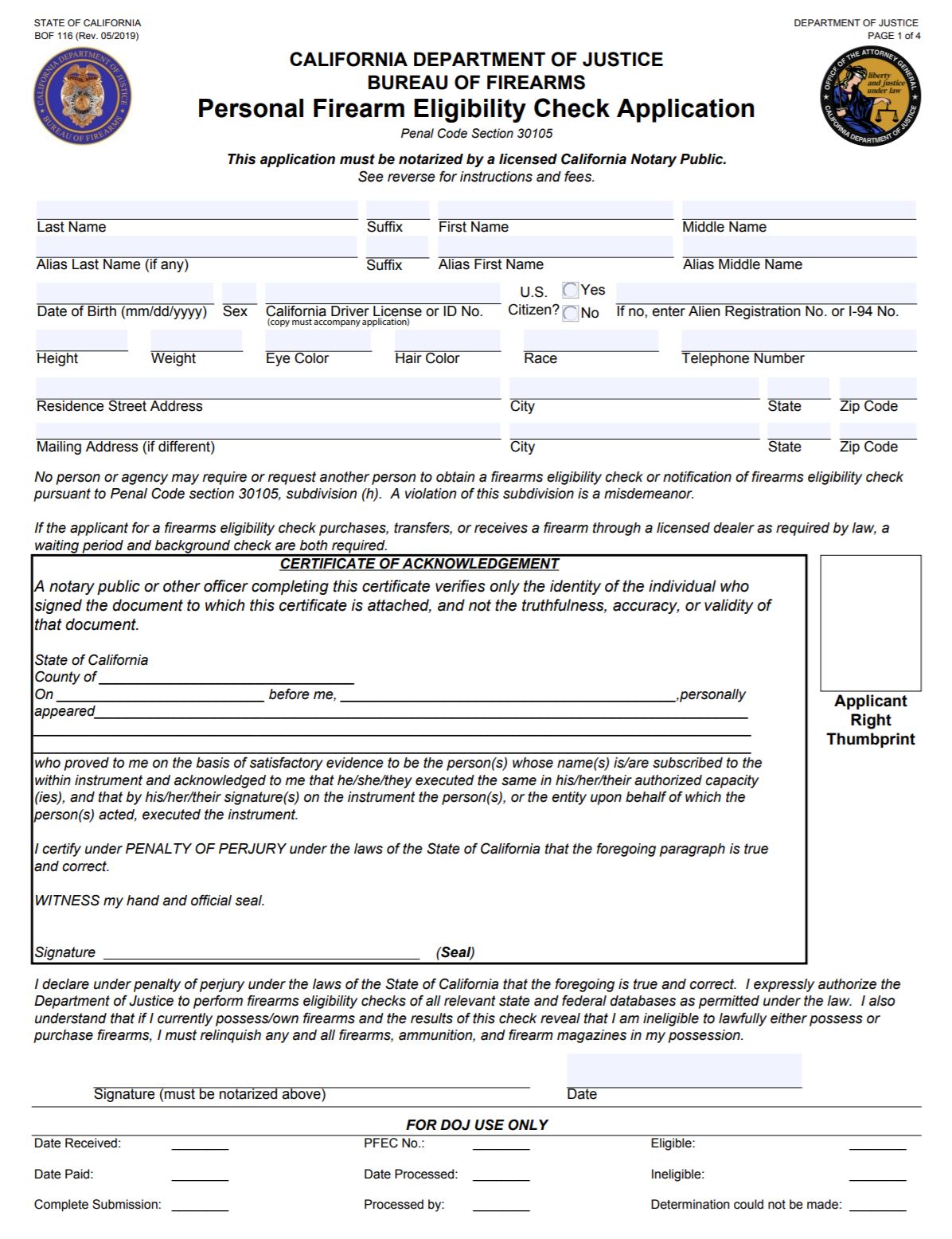 What to Submit With PFEC
The PFEC requires you also submit:
An impression of your right thumbprint on the application.
A copy of your California driver's license or state ID card.
A $20 check or money order made payable to "CALIFORNIA DEPARTMENT OF JUSTICE."
A notary signature and seal placed on the PFEC application by a California public notary.
You can roll your thumbprint yourself using fingerprinting ink, or a local police department or public notary can assist.
Mailing the PFEC Application
Mail the PFEC and all listed items with it to:
DEPARTMENT OF JUSTICE, BUREAU OF FIREARMS - PFEC
P.O. BOX 820200
SACREMENTO, CA, 94203-0200
Once you mail your application, it will take around 30 calendar days for your application to be reviewed by the California DOJ. The DOJ recommends you wait until your PFEC application is approved before submitting your next application for your firearm's unique serial number.
Questions?
If you require assistance with the PFEC Application or have additional questions, you can contact the California Department of Justice help line at 916-227-7527, or email them at firearms.bureau@doj.ca.gov.
---
Step 2: Submit a Digital CFARS Application
Next, you need to make an account on the California Firearms Application Reporting System (CFARS) Website. This is where you'll fill out a digital application and submit payment for requesting a unique serial number for your firearm.
NOTE: Before filing on CFARS, you must have completed a California Firearm Safety Certificate Program or possess a Handgun Safety Certificate number.

Once on the CFARS website, click on "Create a CFARS Account". It will bring you to a disclaimer.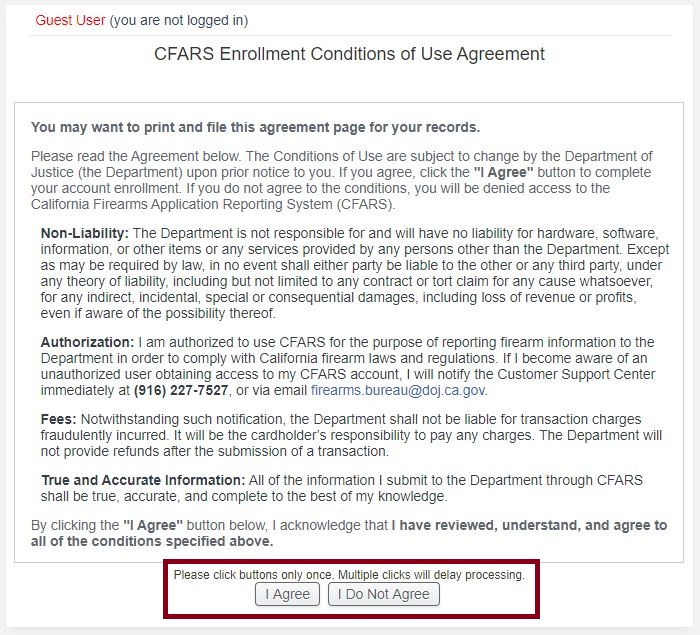 Read the disclaimer, and click "I Agree." You'll be brought to the registration page.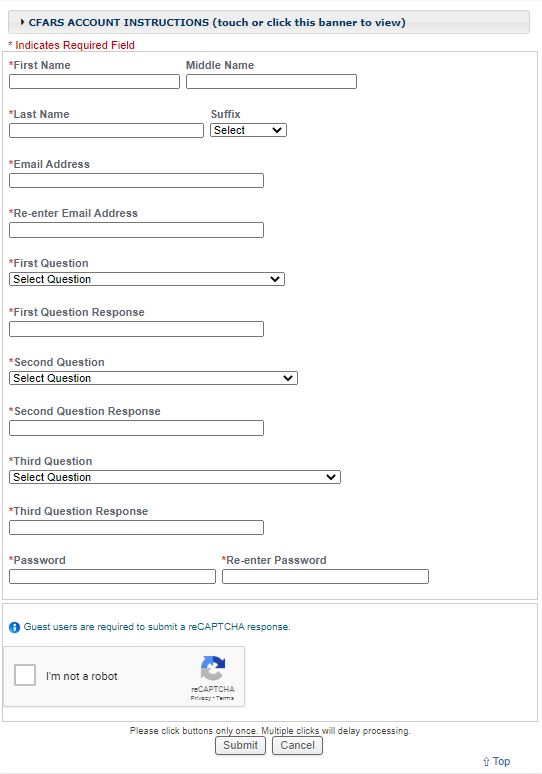 Fill out your personal information, email, and secret questions and responses. Enter a unique password, click "I'm not a robot" and click "Submit." Once you've registered, check your email for your username. Navigate back to the CFARS website, and log in.

On the dashboard, look to the left-hand side and locate the Unique Serial Number Application (USNA). Click it.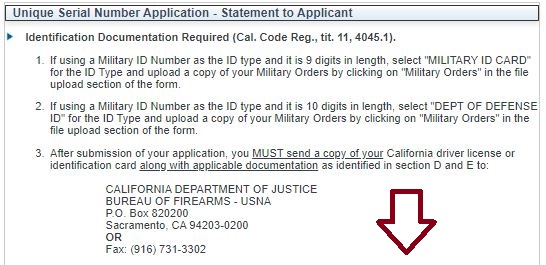 Read through all of the instructions on the first page. It provides information for mailing a copy of your driver's license or ID card, and some important state laws governing homemade firearms. Scroll to the bottom, and select the option most appropriate for you:

On the next page, read through the Unique Serial Number Application Private Notice, and check the box labeled "I Agree" at the bottom: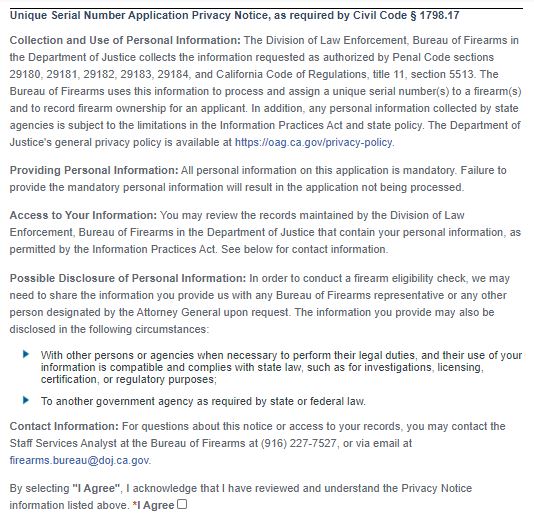 Once you've agreed, continue to the next section: Applicant Information. Fill out your personal information as it is displayed on your state-issued ID.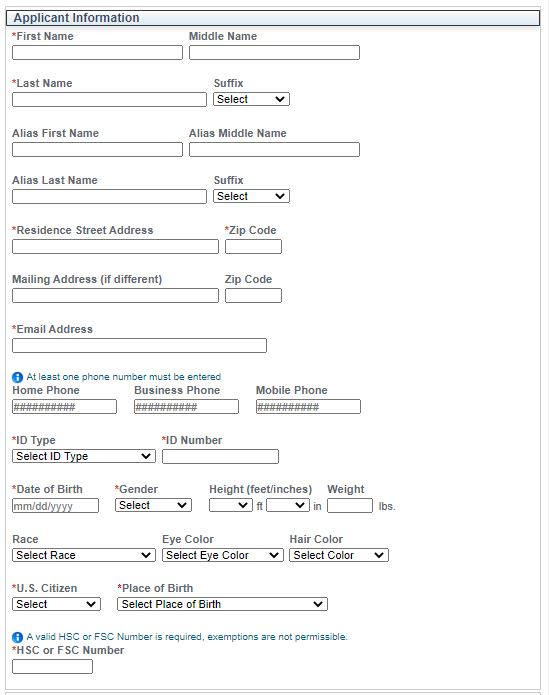 The next section is the Firearm Information section. Do not fill this out until reading the instructions below.
The only required fields are:
Firearm Type
Firearm Color
Date of Manufacture
Material
DO NOT put today's date under "Date of Manufacture".
California state law does not allow you to fabricate your firearm until your USNA application is approved and the serial number has been engraved on the frame or receiver. A best practice is to put a date that is thirty calendar days from today. This gives the California DOJ time to process the application and provide you with your serial number, in addition to the take it will take you to find an engraver and have the serial number engraved. If your application is approved and your serial number is engraved in, say, 20 days instead, you can still build your weapon.
Optional fields should not be filled out. They aren't required and adding information in those fields will only increase the chance your application is rejected. Once you've enter your firearm's basic information and all other personal information, click "Preview." This will bring you a final review page: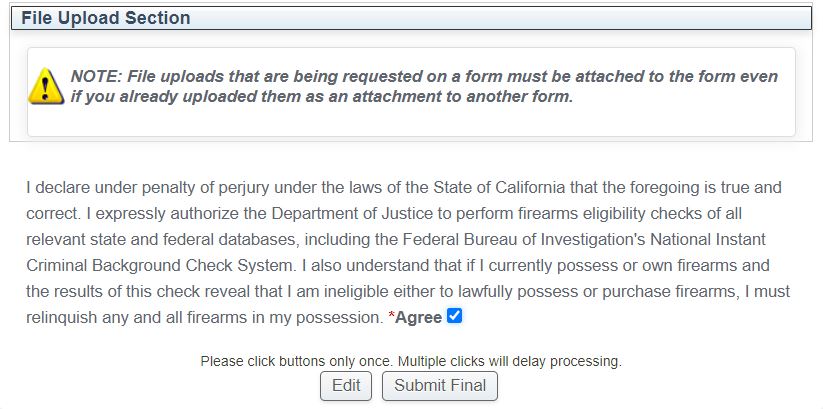 On the final review page, take a second look at all the personal and firearm information you entered. Verify all information is correct, click "Agree" at the bottom, and click on "Submit Final" to submit your USNA application. You'll be brought to a payment processing page where you're required to submit a $15 payment for the application using a credit or debit card.
---
What Happens Next?
California DOJ takes at least 15 calendar days to process your Unique Serial Number Application. Once approved, you'll be notified via email and you'll receive your serial number for engraving.
IMPORTANT: You must have your serial number and other markings engraved on your 80% receiver or frame within 10 calendar days. Approval of your USNA application is considered day one. It's a good idea to reach out to a local gunsmith, machinist, or engraving service before or as soon as you submit your application. That way you can schedule time to have the service performed within 10 days. This is important because you must submit proof of the engraving to the California DOJ by uploading a digital image of the finished engraved markings on the CFARS website.Otherwise, your serial number and application will be retroactively rejected and you'll need to submit another application for a new serial number.
Engraved? Fabricate Your Firearm!
Once your serial number is engraved and a photo has been uploaded of the finished results to the CFARS website, you may now legally cut, drill, and fabricate your 80% lower, receiver, or frame into a firearm. This guide ( Legal Requirements for Self-Made Firearms) clarifies the certain restrictions and configurations your newly minted weapon can or cannot utilize under state law.
---
Quick Recap
That was a lot of information to pour through, especially if you're a California resident. Here's a quick summary and recap of everything discussed:
Under federal law, an 80% lower or homemade firearm does not need to be engraved.
If you ever sell your finished lower-equipped gun, ATF recommends (but doesn't require) serializing it.
If you live in California, you need to have a unique serial number for your 80% lower or homemade gun.
In California, you need to submit a notarized PFEC (background check) application by mail with a $20 payment.
In California, you need to also submit a digital USNA application and pay a $15 fee via debit or credit card.
In California, use your approved USNA and assigned serial number to engrave your receiver or frame.
Engravings must include the serial number, model, your name, and where you made your weapon (city, state).
Engravings must measure at least 0.003" deep and measure at least 1/16" in height.
DISCLAIMER: If you are new to the world of DIY gun building, you likely have a lot of questions and rightfully so. It's an area that has a lot of questions that, without the correct answers, could have some serious implications. At GunBuilders.com, we are by no means providing this content on our website to serve as legal advice or legal counsel. We encourage each and every builder to perform their own research around their respective State laws as well as educating themselves on the Federal laws. When performing your own research, please be sure that you are getting your information from a reliable source.
---