Posted by Gun Builders Depot on Nov 13th 2019
A lot of AR parts manufacturers like to label things meant for .308 rifles as "AR-10" parts. Hell, with all the misnomers and different configurations hitting the market, you may very well think that all .308 parts are "AR-10" parts. They are not and this can be a problem if you're building your own rifle at home. This guide explains the differences between the commercial .308 stuff available for sale and the actual ArmaLite-10 platform. You might've heard of a few other designs (dubbed the SR-25, M110, and Mk 11 Mod 0) from Knights Armament Company. For the sake of this guide, they too fall under the AR-10 banner. All other .308 guns and parts are new platforms designed by different companies.
The ArmaLite AR-10 in a Nutshell

The AR-10 is the original tactical rifle. Eugene Stoner designed it in 1956 before scaling it down to fire the .223 Remington cartridge in 1957, dubbing the smaller version the AR-15. While the modern AR-15's design remains universal (you can mix and match any parts from different makers) the same isn't true for .308 rifles. That's because nearly all modern rifles chambered in .308 are not built on the AR-10 platform. Usually, these generic "not-an-ArmaLite" rifles are lumped together as AR-308s.
"Generic" rifles are produced by different makers - like Browning's BRN-10 or Aero Precision's M5, for example - and these different models can have unique designs or specifications that make them incompatible with other parts and models. "So, how do I build a functional .308 rifle with different parts if they don't work together," you ask? There are simply too many manufacturers to list in this guide but you don't need to worry. There is one popular .308 platform that's largely been adopted as the "new AR-10", providing some standardization. It's called the LR-308 from DPMS Panther Arms.
DPMS LR-308

DPMS updated the AR-10's design and made their own version in 2005, dubbed the Panther LR-308. It quickly earned favorable reviews and won the NRA's Shooting Illustrated Golden Bullseye Award for "Rifle of The Year". This platform's performance, relatively low cost, and close adherence to the AR-10's overall look and feel made it popular among tactical rifle builders and amateur gunsmiths. More makers started producing compatible parts, and the platform stuck.
Today, most custom or pieced-together AR-308s are built on the DPMS pattern. Tip: If building a rifle, look for parts described as, "LR-308" or "DPMS Gen 2" compatible. Annoyingly, a large portion of DPMS parts available out there are incorrectly listed as simply AR-10 parts.
Cross-Platform Parts Compatibility
You're probably more interested in building a .308 gun that buying one, so brands don't matter as much - you just need to check to make sure the part in question is compatible with your platform of choice.
The AR-10 and LR-308 share these parts:
Upper Receiver
Forward Assist Assembly
Ejection Port Dust Cover
Gas Tube Roll Pin
Charging Handle
Gas Block
Barrel (w/ out extension)
Lower Receiver
Safety Selector Lever
Safety Spring & Detent
Trigger & spring
Hammer & spring
Disconnector & spring
Bolt Catch (roll pin incompatible)
Bolt Catch Spring & Plunger
Magazine Release Button
Pistol Grip, Screw & Washer
Takedown Spring and Detent
Pivot Spring and Detent
Trigger Guard & Pins
Buffer Tube (Receiver Extension)
Buffer & Recoil Spring
Buffer Retainer
Receiver End Plate
Castle Nut
Buttstock
These AR-10 and LR-308 parts are NOT interchangeable:
Upper Receiver
Lower Receiver
Handguard/Rail
Barrel Extension
Barrel Nut
Gas Tube
Bolt Carrier Group
Magazine Catch
Bolt Catch Roll Pin
ArmaLite and DPMS Magazine Compatibility
The two .308 platforms sort of share magazines. When the 1994 Assault Weapons Ban was enacted, ArmaLite modified the AR-10 to accept the more widely-available, regular-capacity M14 magazines. But after the ban expired, the company continued to make the AR-10 compatible with only M14 magazines. DPMS designed their platform to accept the original magazines, which is the standard applied to most other .308 rifles (including from Knights Armament Company). This is why you'll often see .308 magazines described as "DPMS / SR-25 / M110 compatible".
Now you have a good idea of what's compatible between the two rifles. Want to build your own? We threw together some visual comparisons so you can get a better idea of why these platforms' bigger parts aren't interchangeable.
Upper Receiver, Barrel Nut & Handguard
DPMS-patterned upper receivers are incompatible with the AR-10 platform because they're physically different in size and shape: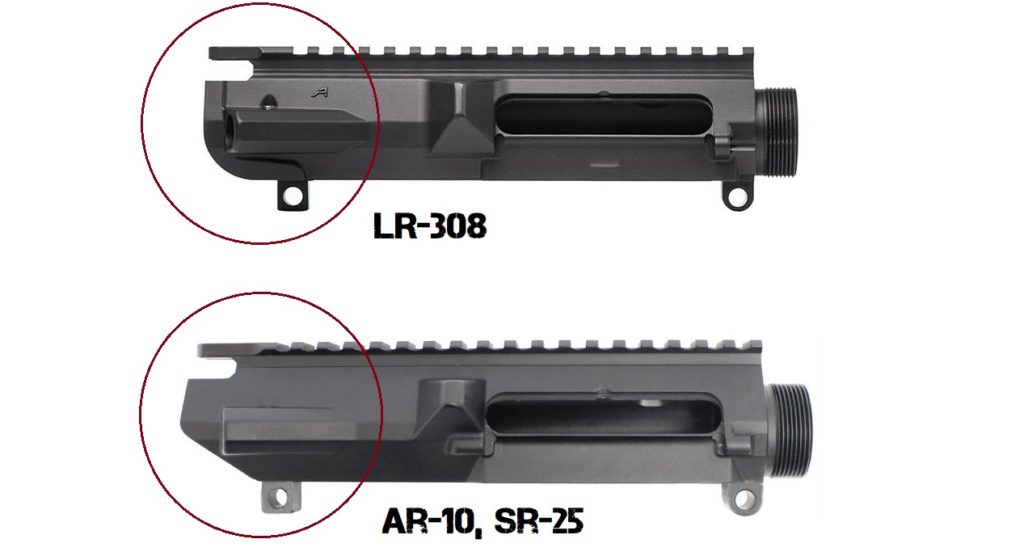 The LR-308 receiver sports a rounded rear facing, whereas AR-10 and SR-25 upper receivers are slant-cut. This prohibits using an AR-10 upper on a DPMS lower, and vice versa. Barrel nuts (and thus handguards/rails) are also incompatible: DPMS uppers use a 1-7/16" x 16 thread pitch for the barrel nut, but AR-10 uppers use a 1-7/16"-18 thread pitch.
NOTE: DPMS introduced two versions of their .308 platform's upper receiver, sporting "high" and "low" profiles. This only affects the height of the top rail by 1/16" and does not inhibit parts compatibility between the two generations.
Lower Receiver
Since the upper receivers of both .308 platforms are different, the lower receivers are shaped to accept their corresponding uppers.

Bolt Carrier Group & Barrel Extension
Although the AR-10 and DPMS .308 rifles' bolt carrier groups look and function the same, slight differences in size and barrel extensions mean you shouldn't mix and match BCGs between the two platforms. The ArmaLite and DPMS bolts measure approximately 0.004" - 0.006" different in measuring headspace. Excess headspace can cause the case head to separate on a cartridge when fired.
Gas Tube
The gas tubes for both .308 platforms may appear similar at first glance, but the DPMS tube measures 15.125" while ArmaLite's tube measures 15.5" (0.375" longer).

Frequently Asked Questions
Here are some of the questions we've been asked, usually related to building an AR-308 from scratch (or something like it):
Q: Can I install an AR-10 or LR-308 upper on an AR-15 lower receiver?
A: No. Even though the lower parts kit and buffer system are substantially the same, the .308 uppers are noticeably longer and would not rest in the takedown or pivot holes. The trigger assembly would also fail to meet the firing pin.
Q: Could I modify an (AR-10/DPMS) lower to fit on a (DPMS/AR-10) upper?
A: No. Even if you were to modify the exterior shape of the upper and lower receiver, slight differences in fitment of the rear lug, front pivot pin, and the way in which the magazine interfaces with the bolt carrier group would likely mean the weapon would be unreliable, if not dangerous.
Q: Is one platform better than the other? Which should I buy or build?
A: Most shooters find the DPMS platform matches (and can outperform) the typical AR-10. We're also fans of the DPMS for its relatively standardized parts market and affordability. Their platform has allowed builders, sellers, and gunsmith shops like us develop ready-to-build .308 kits with handpicked parts.
DISCLAIMER: If you are new to the world of DIY gun building, you likely have a lot of questions and rightfully so. It's an area that has a lot of questions that, without the correct answers, could have some serious implications. At GunBuilders.com, we are by no means providing this content on our website to serve as legal advice or legal counsel. We encourage each and every builder to perform their own research around their respective State laws as well as educating themselves on the Federal laws. When performing your own research, please be sure that you are getting your information from a reliable source.
---