Posted by Gunbuilders.com on Oct 11th 2022
Black rifle enthusiasts and shooters have been using aluminum and polymer receiver blanks to build their AR-15s at home without registering or serializing them. Officially called an 80 lower (or 80% lower) , these receiver blanks aren't legally considered firearms at the time of purchase. But what exactly is an 80% lower? How does it work, what does it do, and how can you get yours on one for your own black rifle (or pistol) build? Is it even legal, and how? This is your ultimate guide.
We're not lawyers and nothing in this guide can be taken as legal advice. Always double-check the law yourself, or consult an attorney.
What is an 80% lower?
[A typical 80% lower - this a forged unit, favored by most builders]
An 80% lower is a receiver blank, an incomplete firearm that isn't operable and can't be made to operate without additional fabrication. An un-finished 80% lower can't accept a trigger or parts kit, so it can't be made to fire. Because of this, 80% lowers and all other types of firearm receiver blanks aren't legally considered firearms by the Bureau of Alcohol, Tobacco, and Firearms (ATF).
Completing your "blank" lower allows you to install a lower parts kit and all the components you need to build a working AR-platform rifle or pistol. These receiver blanks exist for AR-15s chambered in 5.56/.223 and 300 Blackout, the 9mm AR9, and the .308 Winchester-chambered LR-308. The LR-308 is sometimes wrongly called an AR-10, but we'll touch on that later.
What is a Stripped Lower Receiver?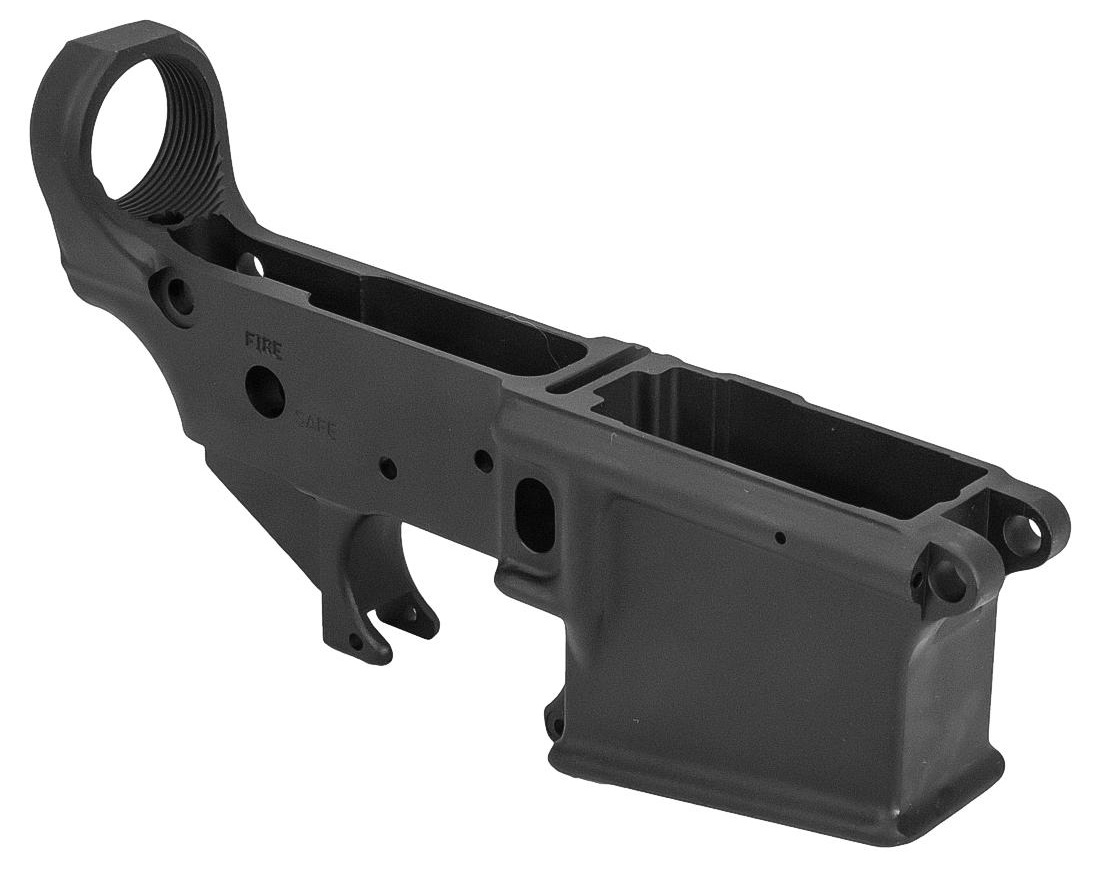 The stripped lower receiver is the only part of the AR-15 that's considered a firearm under federal law because it can function with a trigger and parts kit installed. The 80% lower is an alternative to buying a stripped receiver at the gun store. Cutting and drilling a receiver blank for an AR-type rifle effectively turns it into a stripped lower receiver.
Differences between an 80% and Stripped Lower
Now you how 80 lowers are legally different from AR-15 stripped receivers. One is considered a firearm and one is not. But how are they physically different? A stripped receiver is ready to accept a lower parts kit, buffer system, and upper receiver assembly.
Here's what needs to be completed on an 80% lower to make it functional
Drill the hammer pin hole
Drill the trigger pin hole
Drill the safety selector lever hole
Machine the fire control group cavity
And here's what's already been fabricated for you
Bolt catch
Pistol grip hole
Magazine well
Magazine release
Buffer detent hole
Trigger guard pin holes
Upper receiver rear lug pocket
Front and rear takedown holes
Buffer tube threads and housing
Advantages of Using an 80% Lower
Compared to buying a stripped lower receiver, buying and building an 80% lower for your AR carries some unique benefits:
It's not considered a firearm
No FFL is required to buy one
It ships straight to your house
You don't have to pay any extra fees
No background is required to build one*
You don't need to serialize it*
You don't need to register it*
*State and local laws vary.
States like California require you to submit to a background check and get a unique serial number for your lower before completing it. Always check your laws before buying and building. But how does Federal law handle all this receiver blank business, anyway? The Gun Control Act of 1968 (GCA) governs most gun laws in America, and the ATF enforces and regulates them. But all those terms are not officially recognized by the GCA or the ATF. So, what do they call them?
How the ATF Defines Receiver Blanks:
"80% receiver, " "80% finished, "80% complete, "unfinished receiver " are all terms referring to an item that some may believe has not yet reached a stage of manufacture that meets the definition of firearm frame or receiver found in the Gun Control Act of 1968 (GCA). These are not statutory terms or terms ATF employs or endorses." - Bureau of Alcohol, Tobacco, Firearms, and Explosives (BATFe).
Are 80% Lowers Illegal?
Even though the ATF doesn't have a specific term or ruling, they give 80% lowers a legal pass if they're configured correctly: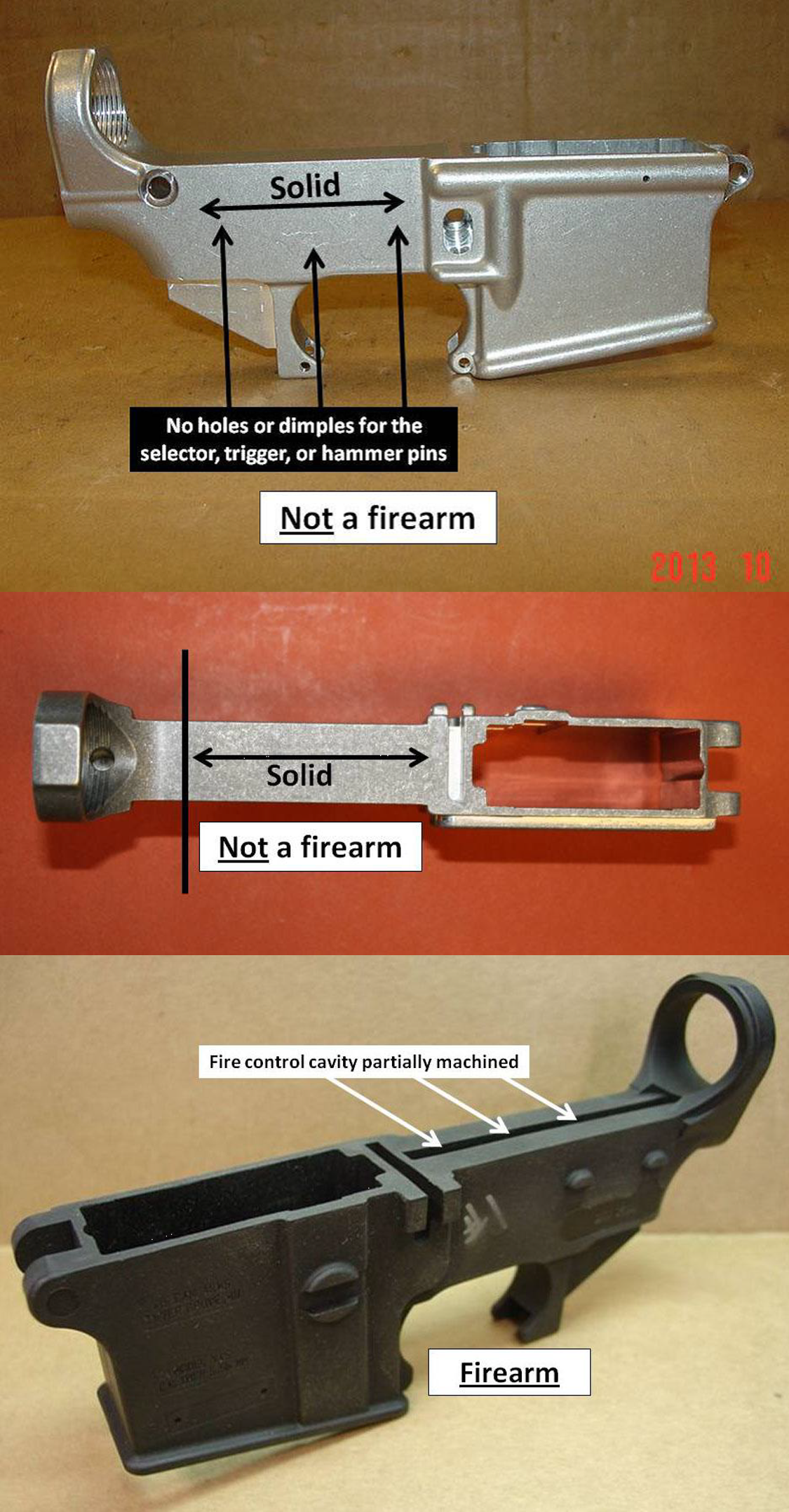 "Receiver blanks that do not meet the definition of a "firearm" are not subject to regulation under the GCA. The ATF has long held that items such as receiver blanks, "castings" or "machined bodies" in which the fire-control cavity area is completely solid and un-machined have not reached the "stage of manufacture" which would result in the classification of a firearm per the GCA." - Bureau of Alcohol, Tobacco, and Firearms
These pictures come straight from the ATF and show what they consider a "receiver blank" compared to an official, stripped AR-15 receiver.
Do I need an FFL to buy an 80 lower?
No. Buying a receiver blank doesn't require an FFL, nor does building one. Some state and local laws vary, so check those, too. Here's how the federal guidelines handle this:
According to BATFE: "Individuals manufacturing sporting-type firearms for their own use need not hold Federal Firearms Licenses (FFLs). However, we suggest that the manufacturer at least identify the firearm with a serial number as a safeguard in the event that the firearm is lost or stolen. Also, the firearm should be identified as required in 27 CFR478.92 if it is sold or otherwise lawfully transferred in the future."
Take note: The ATF says you should serialize your lower, but it's not required in most states.
Tools to Finish The Final 20%
Completing those four machining steps above is easy. Total machining time can vary, but most first-timers get the job done in 2 hours or less. Experienced builders can complete a lower in around 30 minutes with the right tools. Speaking of tools, you'll need an 80% jig to get the job done. If you've ever done basic home improvement stuff, used a router or drill, or put your hands on some power tools, you can do all these steps yourself.
If you want more details about these steps, check out our guide detailing what a jig is and how it works.
Available Types of Blank Lowers
These are the four types of 80% lowers you'll find available for your build:
Forged
As the name implies, forged 80 percent lowers are made from a forged aluminum alloy: Mil-spec 7075 T6 aluminum. This is the same alloy the military uses to build its standard-issue M4s and M16s. Forged units are cheap and easy to produce, making them affordable but tough. If you want the toughest of the tough, a forged 80 percent lower is the way to go. Forged lowers are the most popular choice among most builders for this reason.

Billet
Billet lowers are also quite popular and they're easy to machine. Just like forged lowers, billet 80 lowers are made from an aluminum alloy, 6061 T6 billet aluminum. Billet 80 percent lowers might scratch and dent a bit more easily compared to a forged lower, and billet lowers may suffer from machining mistakes more readily compared to a forged unit. Billet lowers are great for custom fabrication, too. Billet alloy is more easily worked to create complex shapes. Generally, billet lowers afford owners a more aesthetic finish.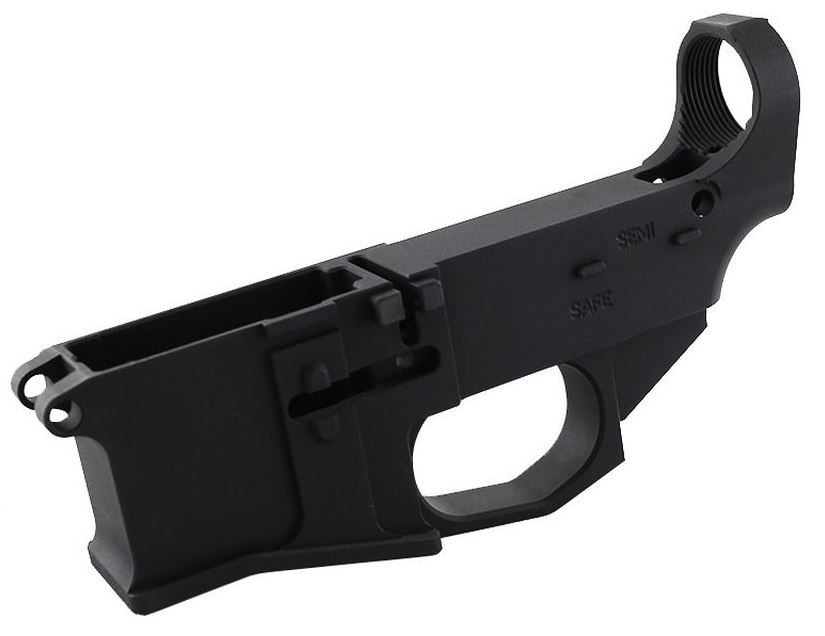 Cast
Cast lowers are generally unsafe. As the name implies, cast lowers are made by pouring aluminum alloy into a molding. The problem with cast lowers is that the casting process creates small air pockets and imperfections. The result is a lower that is might not be able to handle the pressures of a cartridge being fired. Cast lowers can shatter, crack, or even explode. Even during the machining process, a cast 80 lower could fail. The result could be metal alloy or bits of tooling flying in your face. No one wants that. Avoid cast 80 percent lowers at all cost.

Polymer
Polymer lowers are relatively new. They're made from a nylon-reinforced polymer, like what sub-machineguns and Glocks are made of. Polymer lowers are also the easiest to machine. If you wanted, you could finish one using a drill, snips, and hand files. No router is required. Polymer lowers got a bad rap in the beginning, but they've been used in plenty of AR builds and offer a lightweight alternative to forged or billet lowers. They typically weigh 50% less when completed with a lower parts kit. For a more info on how lowers are made, check out our guide explaining .
Things to Look for When Buying
Not all 80% lowers are made equal. Because they're not regulated by the ATF, a lot of manufacturers can get their hands on aluminum and start building units. Here are some things you should look for when buying one:
Engravings
Most lowers have "FIRE" and "SAFE" pre-engraved, but not always. We recommend buying a lower that already has this engraved. It's a basic safety feature. If you're a machinist and want to do your own engraving, then a raw 80 lower can save you some cash because it doesn't have any.
External Dimensions
Some lowers are built with certain features, or they'll have a custom look to them. Lowers with unique shapes or uncommon configurations might not fit certain jigs. Double-check compatibility with your jig if using one. If your jig uses the front and rear take-down holes and buffer tube housing to align it (and not the receiver walls or magazine well), you should be fine.
Fitment
Just like any retail AR-15, 80% lowers come with two buffer tube diameters: Commercial and mil-spec. Commercial buffers measure 1.168 ". Mil-spec buffers measure 1.148 ". Just make sure yougrab the right buffer assembly for your lower.
Parts compatibility
This one can be a big problem if you're not careful. Lowers chambered in 5.56 and .223 are pretty much universal and can accept any AR-15 parts. Certain platforms like the AR9 and LR-308 require specific components to work together. When you're buying parts to complete your build, double-check specifications and fitment descriptions to make sure they work with your platform and lower.
Conclusion
You should have all the info you need about 80% lower receivers. In case you didn't have the time to read through everything, here's a quick summary:
An 80% lower is a firearm receiver blank
It's not considered a firearm, so you can buy one online
You use some simple tools and equipment to complete one
Completing an 80% lower allows you to build your own AR-15
The finished gun doesn't have to be serialized or registered in most states
DISCLAIMER: If you are new to the world of DIY gun building, you likely have a lot of questions and rightfully so. It's an area that has a lot of questions that, without the correct answers, could have some serious implications. At GunBuilders.com, we are by no means providing this content on our website to serve as legal advice or legal counsel. We encourage each and every builder to perform their own research around their respective State laws as well as educating themselves on the Federal laws. When performing your own research, please be sure that you are getting your information from a reliable source.
---